Chicago Bulls Big, Tall, and Plus Size Apparel For Men and Women
The Chicago Bulls have become one of the most exciting teams in the league.  They have an intriguing blend of youth mixed in with veteran's who know how to win and have experience playing in NBA Championship games.  Are the Bulls legitimate contenders?  Fans's are eager to find out!  As the team takes a new direction, their goal remains the same and this is an NBA Championship!  Make sure that your wardrobe has some cool Bulls gear to represent your team on game day.  We review the top online merchants who sell Chicago Bulls big, tall, and plus size apparel in sizes XL, 2X, 3X, 4X, 5X, 6X, XLT, 2XT, 3XT, 4XT and 5XT.  The vast majority of stores don't carry sizes above a 2X, so don't waste your time on merchants who don't cater to the big, tall, and plus size community!
Reviews Of Online Stores Who Carry  Big and Tall, Plus Size Chicago Bulls, T-Shirts, Jerseys, jackets, Sweatshirts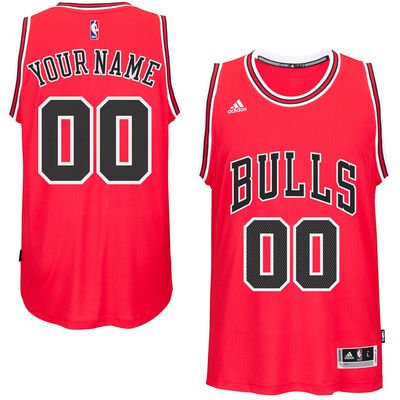 Fans Edge Sports – The big and tall t-shirt shown above is just one of many Chicago Bulls t-shirts, jackets, sweatshirt hoodies, and jerseys that they have in their apparel section. All of their clothing is officially licensed by the NBA. Fans Edge has been in business since the late 1990's. Over the years they have grown to become one of the most reputable and well respected Online sports merchants. I have did business with this company for years and have never had a complaint. Here are some features about their company that may be of interest to you.
Jersey availability – Yes, they do have Chicago Bulls jerseys. However the only "Big sizes" they have is 2X, 3X, and 4X. (You can add any player you want..  Dwyane Wade, Jimmy Butler, Taj Gibson or any other player that is on the current roster)
Men's Big and Tall Sizes : T-Shirts, sweatshirts, and jackets come in 2X, 3X, 4X, 5X, 6X, XLT, 2XT, 3XT, 4XT and 5XT.
Women's Plus Sizes Available : XL, 2XL, 3XL, 4XL, and 5XL
One of the great things about Fans Edge Sports is that you can search their website by size. At least 90 percent of the apparel in their inventory is only available up to size 2XL so it makes shopping MUCH easier when you can filter out all the apparel that isn't available in your size. When using their search make sure that you enter your size as "YOUR SIZE NUMBER + X" So if you are searching for Chicago Bulls 4XL apparel makes sure you enter "Chicago Bulls 4X" rather than 4XL or XXXXL. Hopefully I didn't confuse you. To make things easier I have provided to links to each size in their Chicago Bulls section. Hope this helps.
Shop Men's Big and Tall Chicago Bulls Apparel By Size
Shop Women's Plus Size Chicago Bulls Apparel By Size
Return policy – 365 day no hassle return policy.  You can also make exchanges. Simply specify on a paper that comes with the package if you want a full refund or to make an exchange.  They also have excellent customer service to help you over the telephone with any questions you may have.
Shipping rates  – $4.99 flat rate shipping on orders under 50 dollars. Shipping is free on orders over 50 dollars.
Order tracking – Yes, track your Chicago Bulls order by logging in to their site and checking your order status. Very easy process. Your login information is what you entered when you were making your order.
Apparel Available – T-Shirts, Sweatshirt Hoodies, Long Sleeve Shirts, Jackets, Jerseys
Sports Fanatics – When you step inside the United Center you will see a "sea of red" with all the Chicago Bulls fans sporting their t-shirts, jerseys, sweatshirts, etc…. Make sure you have some Bulls gear to pull out of your closet when game day rolls around so you can celebrate with everyone else!
Sports Fanatics does indeed have big and tall Bulls gear, but you can't search for them by size like you can on Fans Edge Sports. Here is what you need to do. Navigate to which apparel section that you want (t-shirts, jerseys, sweatshirts, jackets, etc…) and then look for the filter box on the left hand menu bar. You will see all the sizes that they have available. Click on your size and you will see all the inventory that the have available.
Big and Tall Sizes Available : 2X, 3X, 4X, 5X, 6X, XLT, 2XT, 3XT (jerseys are only available in size 56 (XXXL)
Plus Sizes Available : XL, 2XL, 3XL, 4XL
Return Policy – Sports Fanatics has the best return policy of any merchant around.  They offer a 365 day no hassle return policy.  This allows you a full year to return your Chicago Bulls gear if you are unsatisfied for any reason.  A long return policy like this allows you to shop well in advance of the Holidays, birthdays, etc.. without worrying if you will be able to return the item in time or not.
Shipping rates – $4.99 3 day shipping.  Some exceptions apply.
Order tracking – Yes, all you need to do is log in to their website to find out when you package has shipped and when you should expect it to arrive.
Bill me later – You can opt for the "Bill Me Later" option which will give you six months to pay for your order with zero percent interest. After 6 months the APR is 19.99%
Shop Chicago Bulls Big, Tall, and Plus Size T-Shirts, Sweatshirts, Jackets, and Jerseys at Sports Fanatics
Amazon – When you shop at Amazon you definitely don't have a shortage of merchandise or apparel to browse through. While this can be good in many aspects, when you are shopping for big and tall or plus size apparel it can be problematic.  The reason it can  be problematic is because you can't search or filter by size.  So you basically have all the t-shirts, jackets, jerseys, and sweatshirts listed but all the sizes are clumped together.  When you figure that 90 percent of the apparel listed isn't available in big and tall or plus sizes you could probably guess how irritating that it can be trying to find apparel that fits you.
However, I have been able to filter the results only to show Big and Tall Chicago Bulls Apparel.  This will show only big and tall Bulls apparel but not by individual size.  At least it filters out all the gear that is only available for sizes 2X and under.  Unfortunately I wasn't able to filter the results for the plus size gear for women. All the women's sizes are listed together but if you have time to browse through the results they do have a nice selection of Women's Chicago Bears Plus Size Apparel.  They also have an impressive collection of Women's Chicago Bulls jewelry, purses, accessories, etc…
Return policy – You have 30 days to return a product after you receive it for a full refund.  To make your returns you have to go to their "Return Center" on their website and print off a mailing label (or you can write it out yourself).
Shipping fees – Many items qualify for "Free Super Saver Shipping" on orders over $25.00
Big, Tall, and Plus Size Apparel Available at Amazon – T-Shirts, Sweat Pants, Tank Tops, Jackets, Jerseys, Sweatshirts, and Hoodies.
Order Tracking – Yes, just log into Amazon to check order status.